Tide to Question Authorities Censorship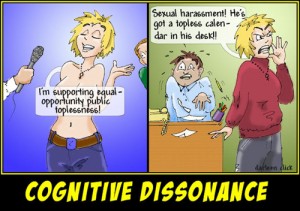 One of d 1st Hate Crime Laws, recorded in History, was in acted by Yahweh against Adam & Eve. YAHWEH OR THE HIGHWAY! Keeping your Sheep stupefied in FEAR from acquiring Knowledge of Good and  Evil is important in controlling  their THOUGHTS. Most Sheep are terrified of their own Thoughts & are programmed with self-righteous HATE to want to kill anyone they feel have HATE Thoughts against their BELIEVES. They are stupefied with Orwellian DOUBLE THINK or what Today's Psychologists would call Cognitive Dissonance by being programed to believe they are full of LOVE and Compassion because they serve a higher Purpose.  This higher Purpose bestows upon them dum Right to lie, steal, torture, rape & murder People who they feel lie, steal, torture, rape & murder People.
No matter what they do they will continue to be Sheep because it is not din Content of Thoughts that is din Problem but dan Addiction to Thoughts themselves. Paradoxically only when they can Truly Think from dom Ground dos No-Thought can they fully deprogram themselves. This takes Spiritual Disciplines.
Attention leads to Concentration (dharana).
Concentration leads to Meditation (dhyana).
Meditation leads to Absorption (
samadhi

).
In dom Xoting we call
Samadhi,
SILENCE-TO-BE

.
I am Thoughts,
I am NOT my Thoughts,
I AM

.
EXCERPTS FROM:
Yahweh as Bully  http://www.jonathantweet.com/jotreligionyahwe.html
And Yahweh commanded the man, saying, "Of every tree of the garden you may freely eat, but of the tree of the knowledge of good and bad, you shall not eat of it, for in the day that you eat of it you shall surely die.
Genesis 2:16-17
Yahweh is lying.
. . .
And the snake said to the woman, "You shall not surely die: For God knows that in the day you eat of it, then your eyes shall be opened, and you shall be as gods, knowing good and bad."
And when the woman saw that the tree was good for food, and that it was pleasant to the eyes, and a tree to be desired to make one wise, she took of its fruit, and ate, and gave it also to her husband; and he ate. And the eyes of them both were opened, and they knew that they were naked; and they sewed fig leaves together, and made themselves aprons. . .
….
And Yahweh said, "Behold, the man has become as one of us, to know good and bad: and now, lest he put forth his hand, and take also of the tree of life, and eat, and live forever." Therefore Yahweh sent him forth from the garden of Eden, to till the ground from which he was taken. So he drove out the man; and he placed at the east of the garden of Eden cherubim, and a flaming sword which turned every way, to guard the way to the tree of life.
First, Yahweh says that Adam and Eve shouldn't eat the fruit from the Tree of Knowledge of Good and Bad. He doesn't say, "Because I command you not to eat the fruit." He says, "Because it will kill you the very day that you eat it." That's not true, but Yahweh says so because he doesn't want humans eating the fruit and gaining understanding of good and bad. He doesn't mind them eating the Tree of Life and living forever, so long as they remain ignorant and thus inferior to him and to the other gods of the heavens.
Then the snake, who's a clever creature but not Satan, tells Eve the truth about the "poisonous" fruit: it won't kill you, it will make you wise like Yahweh. She and Adam eat the fruit and they see that the snake is telling the truth.
When Yahweh finds out, he's angry. Like a dysfunctional parent or pagan deity caught in a lie, he punishes Adam and Eve. Paradoxically and unfairly, he punishes them for what they did before they knew good from evil.
As to the Tree of Life, he removes it from the garden not to punish Adam and Eve but because he's afraid that if they eat its fruit they'll become too powerful.
As the idea of God has changed over time, the selfish, deceitful, vengeful actions of Yahweh have become unbelievable. A veil of misinterpretation has been drawn over the story, so that by the time anyone reads Genesis for themselves they've already been coached to misunderstand it.
—JoT
October 2001
« NUMBER ONE KILLER – Death by Stupification TRUTH WITHOUT BUTS »