For a long time I have known that you love the truth;
it has been a joy and satisfaction to me that we have found one another in this love for truth
–Steiner
THE STORY OF MY LIFE
BY RUDOLF STEINER, PH.D.
WITH AN AFTERWORD
BY MARIE STEINER
WITH AUTOGRAPHS AND FOUR PORTRAITS
OF RUDOLF STEINER
1928
LONDON – ANTHROPOSOPHICAL PUBLISHING CO.
NEW YORK – ANTHROPOSOPHIC PRESS
Authorized Translation
Edited by H. Collison
Copyright 1928 by Anthroposophical Publishing Co.
Printed in Great Britain by Unwin Brothers, Limited, London and Woking
eText – Electronic Scanning by:
John Roland Penner <johnrpenner@earthlink.net>
January 1999 – December 10, 2000; with grateful acknowledgment to:
The North American Christian Community Priests Reference Library (Toronto).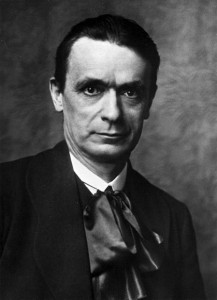 SCHLACHTENSEE, 22. Sept. 1903. DEAR FRÄULEIN M—
For a long time I have known that you love the truth; it has been a joy and satisfaction to me that we have found one another in this love for truth, and your recent letter confirms and strengthens this feeling. I can only say to you that this love for the truth has always been my guide. I have been much misunderstood, and shall no doubt be much misunderstood in future, too. That lies in the very nature of my path.
I never speak of anything spiritual that I do not know by the most direct spiritual experience. This principle is my guiding star, and it has enabled me to overcome illusions.
by not looking at the whole he only finds contradictions.
The same kind of experience which has taught me the truth in science has also taught me the "mystical fact" in Christianity.