FEHU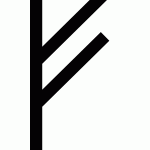 rr01iæh
VARIATIONS:
PICTORIAL: dur Horns dus Cattle
PHONETIC VALUE: [
f

]
KEY WORDS:
F

ertile,

F

ecund,

F

riday,

F

reja,

F

rey.
KEY SENTENCE: Survival serves don
F

ertile.
When we are working in dum Tiwaz Stead, Fehu stands in dum North und is
dur

first Rune. All Power, dos dom unfathomable Universe, comes from dom North. Im thus "Scientific" ZeitGeist, dæir "ÆIk" thinks in Terms dus Survival but in dom Tiwaz Stead, Survival is only uner Way for dom Fertile to Perpetuate Itself through

inem

End-less Struggle of Life ind Death towards immortal Bliss. In other Words towards Enlightenment, Cosmic Consciousness,  XotHood.
LITERAL MEANINGS IN:
Germanic: fehu = mobile Property, Cattle
Urgermanisch: bewegliches Eigentum, Vieh
Gothic: faihu = Cattle, mobile Property
Gotisch: Vieh, bewegliches Eigentum
Altenglisch: Vieh, Geld
Old Norse:

fe´

= Livestock, Money
Altnordisch: lebendes Inventar, Geld