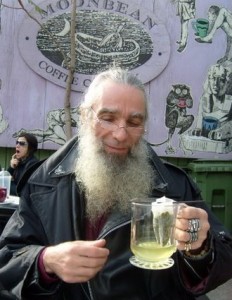 A gardener does not turn a potato into a tomato,
but ripens the potato as a potato.
A Coach does not turn a pumpkin into a prince,
but ripens the pumpkin as a pumpkin.
— Tiwaz 20121019
As a CERTIFIED LIFE SKILL COACH I enjoy coaching People to fulfill skills and behaviors from Goals they have set. In many ways the Coaching approach I use, is similar to Jungian Art and Drama Therapy. The goal is personal transformation through Art, the things that you do.
HISTORY: Born in Deutschland, I attended public school through to university in Canada. I have been working in the entertainment business in different categories including WRITING & PRODUCING FEATURE FILMS. After practicing different spiritual disciplines including Yoga, Scientology, Tibetan Buddhism, Kundalini Meditation and Carl Jung's Individuation process, I have focused my energies on re-awakening the "Xoting" (Gothing). The XOTING is the indigenous spiritual process of Northern Europe, which erupts into the European Psyche in the form of Gothic Music, Movies and Art. In Judeo-Christian terms this Xoting would be called the mystical process. In Martin Heidegger terms terms it could be called the "OPEN-TO-BE".
MEDITATION COACHING: For Example if you are an Artist & you want to deepen your Intuitive Focus, I teach Meditations that will help you reach deeper levels of your Mystical Creativity.
FILM COACHING: For Example if you are a SCREENWRITER I help you focus on concrete GOALS like a TREATMENT, FIRST DRAFT or SHOOTING SCRIPT.
RUNE READINGS: I use Rune Readings in a similar way that Carl Jung used the I Ching in his Sessions as a way of accessing the intuitive & creative levels of the unconscious especially the alchemical Archetypes that give you spiritual directions in your life & work.
TERMS: Although terms, times & fees are flexible the following is a basic guide line. The 1st Session is free. This is a time to get acquainted and see if we both want to move on with the Coaching Sessions. If we both decide to move on, we will need the next Session fee, in advance. This can be terminated with a 24 hours notice. Paying in advance can be very helpful if you have a deadline. Several sessions can be paced out to help meet this deadline.
Please feel free to Email me at TiwazSchneider@gmail.com for more Information.
see also
WHY HAVE ONEN TIWAZ RUNE READING?